dBpoweramp Music Converter ™
Installing
Download the dBpoweramp DMG installer to your computer, double click to open it, when presented drag the dBpoweramp Music Converter image over to the applications icon. Once installed find dBpoweramp in Launchpad.

Important: later macOS versions require that dBpoweramp be given permission to access files or drives, see macOS Security Permissions

Overview
dBpoweramp contains a multitude of audio tools in one: CD Ripper, Batch Converter, Music Converter, ID Tag Editor and Finder Services shortcuts. Preloaded with essential codecs (mp3, wave, FLAC, m4a, Apple Lossless, AIFF).


dBpoweramp
Once installed dBpoweramp includes a central launcher: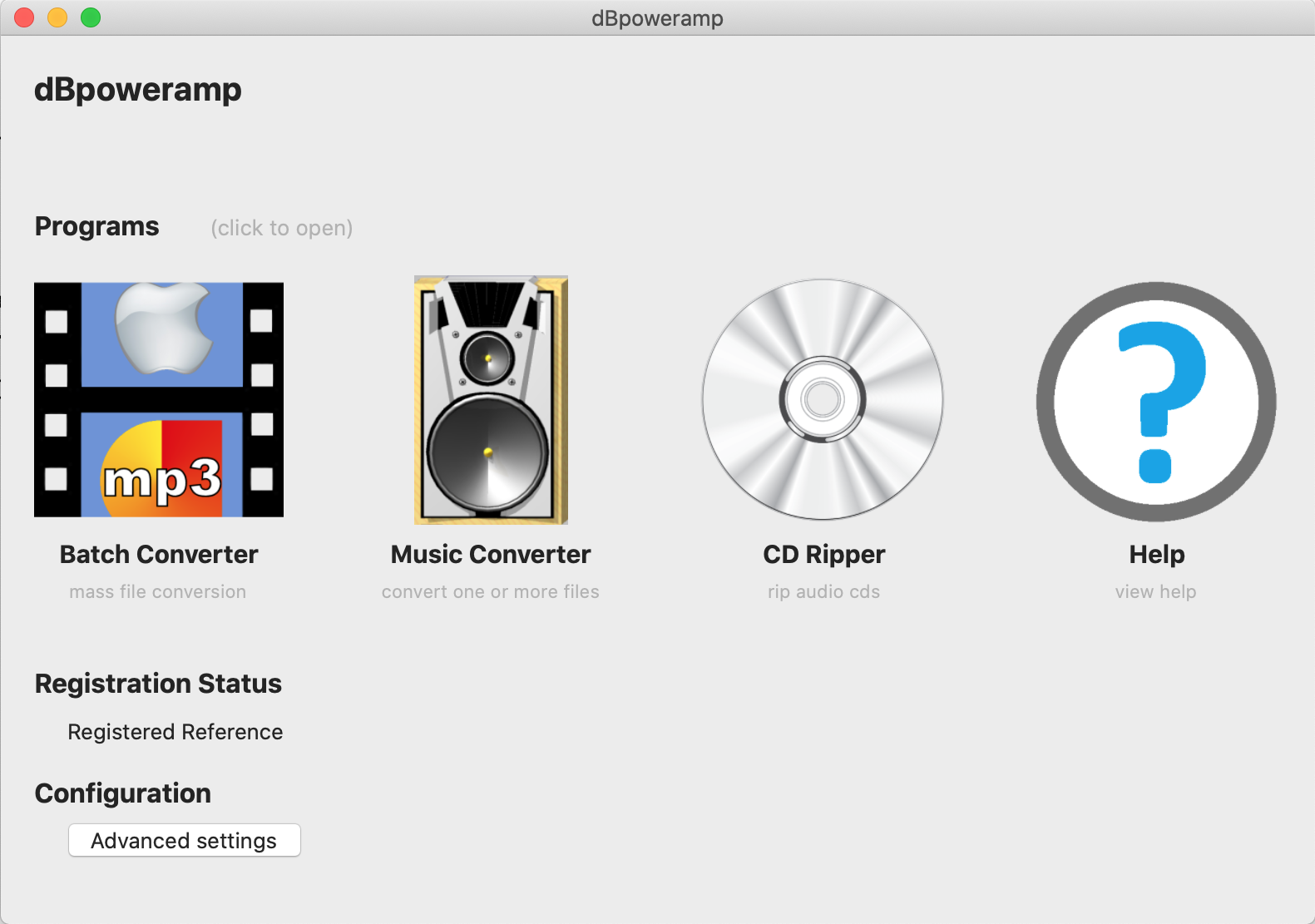 Music Converter




Convert audio tracks with elegant simplicity

mp3, FLAC, m4a, AAC, Apple Lossless, Wave

ID Tags & Artwork preserved,

Multi-CPU encoding support,

Convert from Finder.

CD Ripper




Rip Audio CDs fast and bit-perfect

Secure Ripping from the inventors of AccurateRip,

PerfectMeta blends 5 metadata providers,

High resolution Album Art,

DSP effects: ReplayGain, Volume Normalize.

Batch Converter




Convert folders of tracks effortlessly

Select folders and sub-folders with a single click,

Filter file types,

List files for conversion, sort on bit depth etc,

dBpoweramp Configuration




Configure dBpoweramp

Show version numbers installed,

Set advanced options, including tagging defaults,

View registration status,

Edit ID Tags




Edit ID Tags in Existing Tracks

Access Tag Editor Right From Finder,

Add Album Art,

Edit Multiple Files at Once,

Included Codecs: Wave, AIFF, Mp3 (Lame), Apple Lossless, [Multi-Encoder] and FLAC. In addition are utility codecs, these perform useful actions on files, such as add Replaygain tags, further Utility Codec details.

DSP Effects transform audio or process actions, please note that not all DSP effects are available for OS X dBpoweramp, DSP effect help

At anytime uninstall dBpoweramp by opening finder, selecting Applications and dragging dBpoweramp to the Trash can.




Support



Having a problem with dBpoweramp? visit [Online Support Forum], in addition to [Spoons Audio Guide], a layman's guide to digital audio.