dBpoweramp Image Converter ™
Overview
dBpoweramp Image Converter converts pictures effortlessly, supporting the major formats including: Bitmap (BMP), GIF, JPEG, Portable Network Graphics (PNG), TIFF and Webp. Process images, for example resize whilst converting, or batch convert folders of images in a few clicks.

dBpoweramp is compatible with OS X Yosemite or newer.

dBpoweramp is free from spyware, malware and trojans, no other programs are bundled. At anytime uninstall by selecting Programs and Features in the Control Panel.

Installing
Download the Image Converter DMG installer to your computer, double click to open, when presented drag the dBpoweramp Image Converter over to the applications icon. Once installed find dBpoweramp Image Converter in Launchpad.

Straight after installation to ensure Image converter can handle all file types open Image Converter from Launch Pad and choose 'Advanced Settings' under Configuration: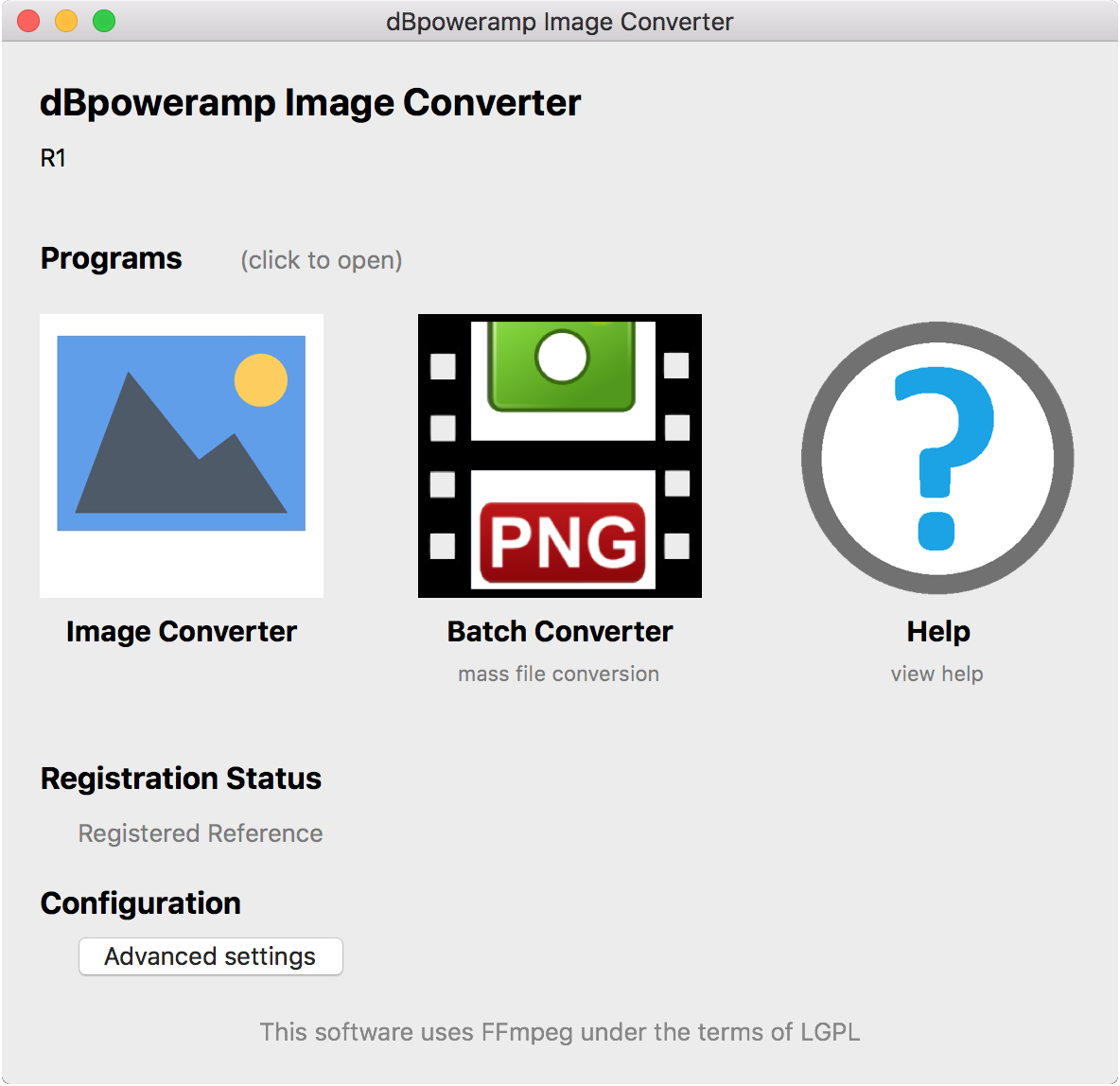 Select the option 'Recommended: Install FFmpeg...'
dBpoweramp Sections
Image Converter




Convert images effortlessly

Bitmap (BMP), GIF, JPEG, Portable Network Graphics (PNG), TIFF and Webp

DSP effects to process images,

Multi-CPU encoding support,

Encode to two formats simultaneously.

Batch Converter




Convert folders of images effortlessly

Select folders and sub-folders with a single click,

Filter file types,

List files for conversion, sort on resolution etc,

dBpoweramp Control Center




Open the main applications and configure dBpoweramp

Check for updates, show version numbers installed,

Set advanced options,

View registration status,

Finder Integration




dBpoweramp Extends Finder

View and Edit Info on right click,

'Convert To' on video right click,

DSP Effects




Process Images & Perform Actions

Extensive list of effects:

Scale, Denoiser, Sharpen & Blur




Support



Having a problem with dBpoweramp? visit [Online Support Forum],