dBpoweramp's CD Ripper
was put up against the most popular CD Rippers, the results which speak for themselves are just startling: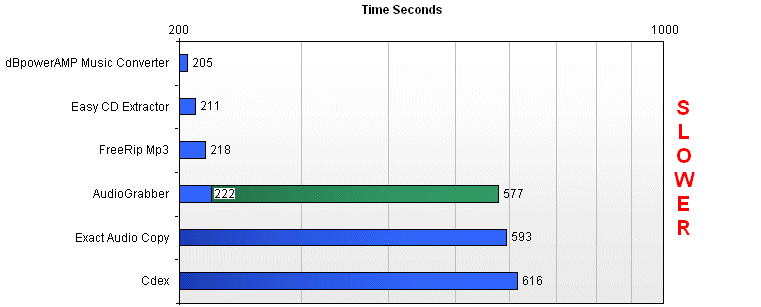 AudioGrabber green line: time taken to flush data to file
Not convinced? try the test yourself, you will be amazed with the results.
Hardware: AOpen 562E 52x CDROM.
Audio CD Disc: Club Mix Ibiza 2000 - Disc 1: time take to completely rip CD
Software: Latest version of each program was used, ripping straight to Wave file (44.1KHz 16bit stereo PCM), using fastest ripping options found.
dBpoweramp Music Converter (R12) - Secure mode (CD was in AccurateRip)
CD-EX (1.4b4) - Standard Ripping Method was selected,
AudioGrabber (1.81) - Rip as much as possible to RAM selected (208MB),
FreeRip Mp3 (1.13) - No speed tweaking options found,
Easy CD-DA Extractor (4.6.1) - On-the-fly copy mode selected,
Exact Audio Copy (.9b) - Low error recovery and burst mode.