Asset UPnP (DLNA compatible)


Asset is a UPnP (DLNA compatible) audio server, UPnP is a method of sharing media content between devices. Typically audio files are stored on a computer, server or NAS, multiple audio devices around the home network can play audio from the UPnP server (devices such as Linn DS, Naim NDX, XBox 360, PS3, etc).

Asset features:
Designed from the ground up as an audio only UPnP server,
Internet Radio: browse popular stations from around the world,
Dynamic playlists: find newest, least or most played tracks & albums. Jukebox (random) selection,
Customizable browse tree with advanced search facilities (Album by Release, Style, Composer, Conductor...),
Configurable Wave, LPCM or mp3 decoding (no quality loss) for devices which cannot play specific audio types,
Capture the PC sound output and stream to a UPnP player (Windows 7 & Vista),
ReplayGain can be applied to Wave, LPCM and mp3 stream, volume matching across tracks for devices which have no support,
Runs efficiently in the background detecting new & changed tracks,
Dynamic Browsing, include / Exclude Genres, or Years with ease.

When looking at other UPnP servers, you would be surprised how they get the simple things wrong, such as separating out albums with the same name, after all you could have 10 Greatest Hits albums. With Asset UPnP the attention to detail is second to none.
Asset the heart of your media-network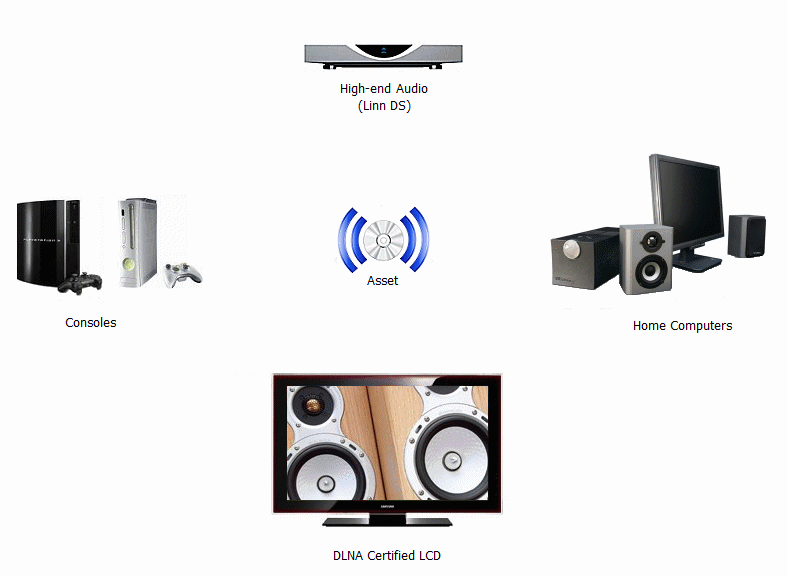 Download
(30 day trial & free edition)
Windows 8.1, 7 & Vista

Install Release 4.3
5 MB
QNAP Release 4.4
Installation Instructions
ARM x19
(n12, n19, n20, n21, HS-210 where 'n' is 1, 2, 4, etc)
ARM x31
(n31, where 'n' is 1, 2, 4, etc)
Intel
(n51, n69, n69L, n70, n53pro, HS-251 where 'n' is 1, 2, 4, etc)
ARM x09
(not sold for last 5 years)
Apple OS X (Mountain Lion or newer)
Installation Instructions
Install Release 4.4
5.5 MB
Debian Linux Release 4.4
Linux Install Instructions
Configuration Manual
Intel Debian x86
Intel Debian 64 bit
Others
Raspberry Pi
Release 4.4 3.8 MB
Pi Install Instructions
Pi Configuration Manual
Windows XP Service Pack 3
Release 4.3 15 MB
Windows Home Server 2011
Release 4.3 4.5 MB install Instructions & manual
Windows Home Server v1
Release 4.3 15 MB install Instructions & manual
Purchase
Register Asset

Feature Table
| | | |
| --- | --- | --- |
| Feature | Free | Premium Registered |
| UPnP Server | X | X |
| Internet Radio | | X |
| Dynamic Playlists | | X |
| Jukebox Random Selection | | X |
| Browse by File & Folder | | X |
| PC Sound Card Streaming (Windows Only) | | X |
| Dynamic Browsing | | X |
License conditions: Asset Free is for non-commercial use only
Need help? Refer to program documentation, look on the Forum